Hastings Blossom Parade
The 2023 Blossom Parade is done for another year, and it was a huge success! Thanks to everyone who participated, and came along to see the show.
Stay tuned for details of 2024!
____________________
The theme for this year's Blossom Parade is 'Our Hastings'!
The Hastings Blossom Parade brings the community together to celebrate the arrival of Spring and renews a sense of pride in our region. With a later start time of 1:00pm this year (and as part of the three-day extravaganza that will be 'Blossom Fest '23'), we hope to allow all those with Saturday morning sports (or chores) the chance to get into town, enjoy the elevated vibe and free entertainment, see all the incredible effort our Parade participants put into their entries, and join the festivities!
This is a wonderful free event that allows anyone from our community to get involved and help us to show off the best of Hawke's Bay. As an individual or a community, a business big or small, a school or kindergarten, church, or cultural group, you are all invited to participate and celebrate. The theme for this year (as mentioned above) is 'Our Hastings'.
This theme provides the opportunity for you to interpret it in many ways. We have an abundance of artists, craftspeople and entrepreneurs that design, make and build in the Bay. Our schools are full of talented young people. Our community groups and leaders make such a positive impact in our lives. The Blossom Parade is a celebration of our people and their amazing ideas, actions and achievements.
This year marks 150 years since the founding of Hastings township and the Hastings District Council will be celebrating with a series of events (July-Sept) to commemorate this significant milestone. We hope this year's theme enables your float entry to showcase your special place within Hastings' history. Keep in mind that lots of movement and noise makes for an exciting parade to watch, and to participate in!
If you have any questions around entry, please contact event organiser Lyn Mackie at Arts Inc. Heretaunga via lyn@artsinc.co.nz.

How to be part of the 2023 Blossom Parade Spectacular?
To confirm your interest and participation please fill in an expression of interest form. Alternatively email Lyn Mackie at Arts Inc. Heretaunga for any additional information (email link above).
Fill out the online form. You're welcome to check out the Blossom Newsletter too.
How can I participate?
The Parade will once again be highly colourful, exciting and full of fun for the public who line the streets to watch this iconic event. There are a number of ways that you can be part of the parade. This includes:
Build a float as a business or community organisation
Decorate a car, motorbike, bicycle or pram to promote your organisation
Be part of a performance/dance group
Encourage your school or sports team or social club to participate
Form a New Orleans style marching band or Brazilian Samba band
Dress up with your friends and join the parade in your best blossom themed outfit
Sponsor an entry
What Categories are there?
Best Float
Best Performance
Best Use of Blossom
Most Unusual
What prizes are on offer?
There will be a few categories you can choose from and a $1,500 cash prize will be offered to entries that win an award, plus $500 prize for runners up in each category: A People's Choice award will also be voted for via The Hits, winning $2,000 in prize money (voting is limited to one vote per phone).
NB: To vote for the People's Choice award please text "BLOSSOM [and the number of the entry]" to 4487 - so for example; text "BLOSSOM 29" to 4487 to vote for entry number 29, or "BLOSSOM 3" to 4487 to vote for entry number 3, etc.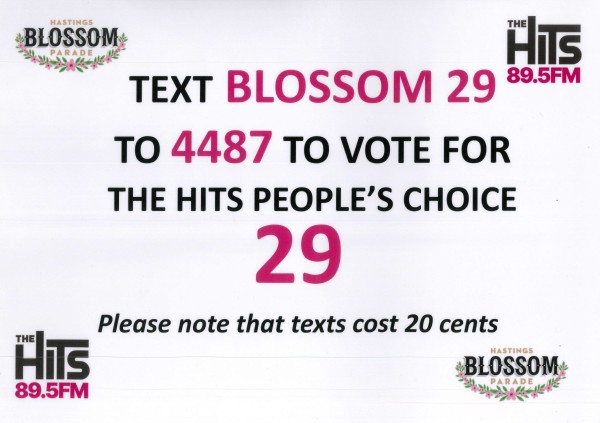 (Texts cost .20c to send - a small price to pay to make sure your favorite is in to win!!)
For more info on categories and general guidelines please click here.
A map of the Parade Route for 2023 is below, and when we have an operational link you'll be able to click on the Blossom Fest '23 What's On poster to bring up a printable version for the front of your fridge!
Core Funder: Hastings District Council